Stars Gianna Jun, Ju Ji-hoon, Oh Jung-seand Cho Han-Cheul joined writer Kim Eun-hee and director of photography Choi Sang-mook for a special press conference ahead of the premiere
KUALA LUMPUR, 13 October 2021 – iQiyi's Original K-series Jirisan took centre stage this afternoon (October 13th) with a global press conference featuring writer Kim Eun-hee, director of photography Choi Sang-mook, together with stars Gianna Jun, Ju Ji-hoon, Oh Jung-se and Cho Han-Cheul. The event began with a sneak preview of Jirisan, which Jirisan peak in all its glory over the four seasons. Jun, Ju and their fellow actors star as national park rangers who fearlessly face typhoons, fires, floods, and other untold dangers in their search and rescue missions. The series not only offers mysteries and suspense, but also heartwarming stories that viewers can look forward to.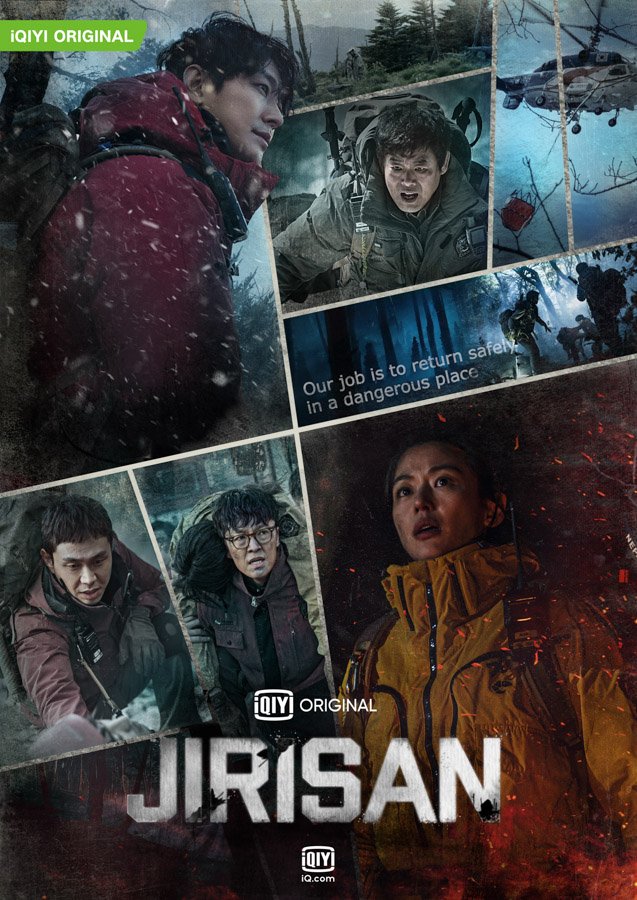 Jirisan follows a team of national park rangers who are responsible for search and rescue efforts on Jirisan. Experienced ranger (played by Gianna Jun) and rookie ranger (played by Ju Ji-hoon) are set to unravel the secrets of the peak. The iQiyi Original K-series will exclusively simulcast with Korea on October 23rd on the iQiyi International app and iQ.com worldwide.
Key quotes from Jirisan's press conference:
Jirisan National Park's star ranger Gianna Jun and rookie ranger Ju Ji-hoon are in a 'senior-junior' relationship, where apending long hours together led to amazing transformations of their relationship. Speaking of their time together in their first ever collaboration, Jun said, "It was a very good partnership, we were at ease." He added: "I've been a fan of Gianna Jun 'since young'. Her charm has left me speechless and she has always been a role model for me. During our collaboration, she was always trying to feed me, so I am very thankful to her."
In addition to the on-screen chemistry between the male and female leads, Jun, Oh Jung-se and Cho Han-cheul are also teammates at the Haidong Branch of rangers. The moments of hilarity and bickering among the trio in the series are not to be missed. Co-star Sung Dong-il mentioned in a previous interview that Oh Jung-se can bring on the laughs, while Jun was guilty of some 'NG' scenes. Gianna shared, "Actually he just looks funny. There are many scenes that we had to shoot together and they were all serious ones, but he just made us laugh. And before we burst out laughing the director would shout 'Cut!'." Oh Jung-se meanwhile said that Jun was very into her character and shared an anecdote about being on set together. "There was once Gianna Jun wanted to hit my head, but she burst into laughter before she could do it. After laughing though, she still did hit my head." In embarrassment, Jun replied, "I wanted to be serious, but could not stop myself from laughing, I am really sorry."
Kim Eun-hee shared that she had previously written a story with the lead character being a police officer focused on finding the cause of a murder after it occurred. But for Jirisan, she shared that park rangers would be trying to prevent incidents instead. "Few actors have worked with writer Kim consecutively," said Jun. "I am very thankful for that. The charm in her scripts is that details that seem unimportant at the start, turn out to be crucial at the end." Ju added, "I've worked with writer Kim for five years. She's like a relative, someone who I will greet during a festival, and we meet often. Her scripts are extremely detailed." Ju and Kim both expressed hope to continue working together in the future.
In a departure from her elegant, goddess-like image in the romance comedies she previously starred in, Gianna Jun showcases a new side of strength and skill in Jirisan. Speaking of her role, Jun said "Actually, I didn't accept the role because I wished to play a strong woman, females today are stronger in character. I never thought I would play a park ranger, to me this is a brand-new experience." Gianna Jun also felt that the filming process was not too tough. "I didn't feel exceptionally tired or cold, I was very happy throughout the filming process. As I prepared well in mountaineering gear, there were not many difficulties," she said, adding that the production process had improved her physical health. Screenwriter Kim also praised Jun for growing from strength to strength, just like her iconic character in the box office hit film, My Sassy Girl. Jun replied: "Thank you to everyone for your praises, I think there are some humorous parts in there."
Ju Ji-hoon plays rookie ranger Kang Hyun-jo, who adds an element of mystery into the series. He shared his thoughts on his character, and revealed how he went about bringing the role to life. Prior to production, he had discussions with writer Kim and listened to her analysis of his role. He revealed that he enjoyed climbing from a young age and expressed enthusiasm to climb Jirisan in the future. Ju shared that it took a lot of energy to shoot this series. This was especially for scenes where he had to ascend the peak and keep his legs sturdy. Saying that the shoot was about three to four times more demanding than shooting on even ground, he quipped, "That's why I run to keep fit."
Oh Jung-se has played many memorable characters in various successful drama series, including Stove League, and has enjoyed massive popularity as a result. Oh shared why he decided to get involved in Jirisan, and the challenges he encountered throughout the production."Many are anticipating Jirisan, one can feel its charm from the title alone, especially with writer Kim, director Lee Eung-bok and director of photography Choi Sang-mook behind it. I had no reason not to accept the role," he said.
Cho Han-cheul has played numerous comedic roles that have brightened up many shows. In Jirisan, he will once again inject humour to lighten up the series with his role as a Haidong Branch park ranger alongside his teammates Sharing his experience of being on set, Cho talked about the joys and challenges of filming in nature, and revealed that he had climbed the mountain at the age of 20 in an attempt to quit smoking. He has ascended the peak twice since then. Laughing about his current age, Cho said that the production took a toll on him physically. Oh Jung-se joked, "I'm younger than Cho Han-cheul!" Oh believed that the mountain enables him to feel and embrace nature's charm. "This warmth is similar to a parents' embrace and that will be felt by viewers," he said
About Jirisan
Global Premiere: October 23 20:00 MYT on the iQiyi International app and iQ.com across 191 territories, simulcast with South Korea. New episodes will air on Saturdays and Sundays.
Format: 16-episode Korean Drama Series
Genres: Mystery, Thriller, Drama
Director: Lee Eung-bok (Descendants of the Sun, Guardian: The Lonely and Great God, Sweet Home)
Screenwriter: Kim Eun-hee (Kingdom, Signal)
Production Company: AStory (Kingdom S1)
Cast: Gianna Jun, Ju Ji-hoon, Sung Dong-il, Oh Jung-se, Cho Han-cheul
Synopsis: Seo Yi-gang is Jirisan National Park's top ranger who has vast experience in navigation, making her knowledgeable when it comes to tracking down lost individuals. One day, she is partnered up with rookie ranger Kang Hyun-jo, a military academy graduate and ex-lieutenant who decided to become a ranger after experiencing a horrific incident on Jirisan. The drama is centered around a mystery surrounding the mountain's many visitors; those who come to kill, and those who come to end their lives.