September Dramas on the BBC
There's something for each and every drama fan on BBC First this September. For the crime and thriller buffs, dive into the explosive first season of Guilt – when two estranged brothers race to cover up their accidental killing of an old man, and attempt to stop their lies from catching up with them.
For something just a little more lighthearted, the hotly-anticipated family comedy Us hits Asia's small screens on the 21st of September, express from the UK. Travel to all the places on your bucket list this month, as we follow the Petersen family off on their annual summer holiday to Amsterdam, Barcelona, Venice, Copenhagen and everything in between. But just days before they depart, what happens when Connie Petersen announces she wants a divorce?
Exclusive to BBC Brit in Malaysia comes a series especially with movie enthusiasts in mind. Inside No. 9 Series 5 is the 5th installment in Steve Pemberton and Reece Shearsmith's multi-award-winning anthology of short films, exploring everything from Christmas magic to football, and served with refreshing dark humour.
Guilt  
Thriller | Episodes: 6 x 50'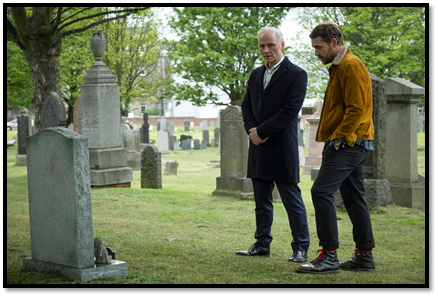 Show Summary:
Brothers Max and Jake couldn't be more different. Max is wealthy with an apparently perfect life. Jake scrapes a living running a record shop. Driving home late one night, they accidentally kill an old man on a darkened street. They manage to conceal their crime, but when others suspect the death wasn't as innocent as it first appeared, the brothers' lives start falling apart. As their guilt takes them into a dangerous world where everyone seems to have a hidden agenda, they soon discover they can trust no-one. Not even each other.
More about Guilt: 
Written by screenwriter Noel Forsyth, Guilt dwells on issues of deception, failed brotherhood and ideas of conscience vs self-preservation, each captured by the different brothers. While Max is ruthless and calculating, Jake struggles with guilt: "I wanted to write about siblings, which I think is the most dramatically interesting familial relationship. Because you have two individuals, with their own lives, who can be very different, but are still tied together by that huge emotional hinterland. And from there it was just about writing an interesting story. I found it a very liberating approach." 
If you're a fan of Breaking Bad, you just might like this. Despite its dark subject matter, Guilt has been widely-praised for its sense of humour: "I find it hard to watch dramas where no-one says anything remotely funny for six hours of television. It's so artificial. Humour is one of the major ways that human beings react to extreme pressure, it should always be woven into drama and I think that's what all the best dramas have done, from The Sopranos to Breaking Bad to The West Wing", in Forsyth's words.
The series was set and shot on location in Edinburgh and Glasgow, Scotland. 
Praise for Guilt: 
"What elevates Guilt – besides the artful direction, eye-catching production design and a killer soundtrack – is the rich river of black humour that bubbles through it." – The Guardian
"It all added up to a superb hour of TV and one which cemented Guilt's place as the unexpected treat of the year. If you haven't watched it yet, clear four hours to do so." – iNews
"Forsyth's tightly written screenplay means the action never sags, and it's frequently very funny." – Evening Standard
About the cast: 
Mark is a Scottish actor best known for his roles in the television dramas Shetland, Casualty, Psychoville, Line of Duty and Unforgotten. He has also worked in theatrical roles, such as in The Duchess of Malfi, Much Ado About Nothing and Cyrano de Bergerac.
Jamie Sives – Jake McCall
Jamie is a Scottish actor, previously appearing in such programmes as Frontier, Chernobyl and Rockface. He was nominated for British Newcomer of the Year at the 2002 London Film Critics Circle Awards and the Audience Award for Best Actor at the European Film Awards for his work in Wilbur Wants to Kill Himself. 
Us  
Contemporary | Episodes: 6 x 45'
Show Summary: 
Full of humour and heartbreak, this miniseries stars Tom Hollander (Baptiste), Saskia Reeves (Luther) and Sofie Gråbøl (The Killing). Connie and Douglas are set for a grand tour of Europe. It's one last family holiday before their only son Albie leaves for university. But just days before departure, Connie announces she wants a divorce. They nonetheless continue with the trip in some of the world's most beautiful cities – from Amsterdam and Paris, to Venice and Barcelona. Douglas sees this as a make-or-break chance to win Connie back and restore his troubled relationship with their teenage son. As love takes a detour, will Douglas get his marriage back on track?
More about Us:  
Us was adapted from novelist David Nicholls's critically-acclaimed book of the same name, which was previously longlisted for the 2014 Man Booker Prize. It charts the straitlaced biochemist Douglas's unlikely marriage to the artistic Connie, and his attempts to save it by taking the family on a cross-continental European expedition. The main present-day expedition storyline is also peppered with flashbacks to a simpler time in the past, as we discover how Connie and Douglas first meet and grow closer to each other.
The book and the show then touches on the struggles of fatherhood, families growing apart as children mature and gain their independence, and the importance of honest communication and spontaneity in family relationships over the long-term. All of this is wrapped up in a comedic, but also reflective, narrative package – with the Louvre and the canals of Amsterdam on the side.
David Nicholls says of the adaptation: "It's a huge thrill to see the novel come to life, and with such a wonderful cast and production team. We want to make something funny, touching and beautiful, to really explore marriage and family life, all against this incredible backdrop."
Early Praise for Us:
The Times UK – "As autumn approaches, Us will offer us light and charity aplenty. Yet there is conflict, unkindness and existential threat too… David Nicholls has made a brilliant and faithful adaptation of his 2014 Booker longlisted novel about a couple on the verge of breaking up."
About the cast: 
Tom Hollander – Douglas Petersen
Hollander is an award winning English actor, best known for his roles in tentpole films such as About Time, Pirates of the Caribbean, Pride & Prejudice, Bird Box, Bohemian Rhapsody, The Night Manager and Mission: Impossible – Rogue Nation. In 1992, he won an Ian Charleson Award for his work in The Way of the World. He has also written and starred in the sitcom Rev, which won Best Situation Comedy at the 2012 BAFTA Awards.
Saskia Reeves – Connie Petersen
Saskia is an English actress best known for her roles in Close My Eyes and I.D. Other programmes she has appeared in include Luther, Spooks and The Commander.
Inside No. 9 Series 5  
Comedy | Episodes: 6 x 30'
Show Summary: 
Steve Pemberton & Reece Shearsmith present a fifth anthology of films. From night-time to half-time, from the magic of Christmas, to the mysteries of magic and into the minds of monsters. Starring alongside Steve Pemberton and Reece Shearsmith is a wealth of talent including Jenna Coleman (Victoria), Kadiff Kirwan (Mary Queen of Scots), David Morrissey (The Other Boleyn Girl), Ralf Little (The Royle Family), Fionn Whitehead (Dunkirk), Maxine Peake (Funny Cow), Phil Davis (Poldark) and many more.
More about Inside No. 9:  
Each episode is 1 short film all by itself, with a whole new cast of characters and actors. The sole condition for each film is that it can only take place in a single location, and each must be linked to the number 9. Steve Pemberton says, "I've found the writing of Inside No. 9 to be quite liberating, starting with a blank sheet every week. In a way it's daunting because you have to carve out a new setting, storyline and characters each time, but you only have to hold them in your head for 30 pages without thinking "oh it'll be great if his secret comes out in ep5" or "that's a series 2 idea". You just dive straight in with the knowledge that you have to reach a conclusion within the same half-hour, and that's refreshing."
The series is known for its elaborate plot twists and misleading audiences: "Any element you can put into a comedy – horror, drama, emotion – none of it is what you normally get out of comedy, so it's suddenly very heightened," says Reece Shearsmith.
Series 5 Episode summaries: 
Episode 1 – 'The Referee's a W***er'A darkly comedic take on a football match between Manchester United and Blackburn Rovers, with a plot featuring relegation, corruption and bad referees.
Episode 2 – 'Death Be Not Proud'Beattie and Sam are a young couple finally on the property ladder. But the only flat they can afford has a dark and sinister past, one that demands to be heard.
Episode 3 – 'Love's Great Adventure'Trevor and Julia always want to make Christmas really special for their family, but this year, with money so tight, things aren't going to be easy. As each door of the Advent calendar opens, everyone will have to do their bit to make Christmas happen.
Episode 4 – 'Misdirection'World-famous magician Neville Griffin is extremely protective of his secrets, but student journalist Gabriel is determined to get an interview nonetheless. Griffin actually believes that stealing a magic trick is probably worse than murder. How would he know that, exactly?
Episode 5 – 'Thinking Out Loud'Seven different people share their life stories to a camera, without realizing that their fates will soon collide.

 

Episode 6 – 'The Stakeout'
Two police officers always have time to get to know each other on the night shift. But PC Thompson's previous partner died in a brutal attack less than a month ago, the forensics have gone missing, and PC Varney is beginning to ask a lot of awkward questions.
Praise for the show:
"For five series of Inside No 9, Reece Shearsmith and Steve Pemberton have expertly blended chills, thrills and satire to create what is surely the most reliably brilliant show on television." – iNews
The series has won the "Best TV Sitcom" prize at the 2014 Freesat Awards, the Broadcast Award for "Best Original Programme", and both the "Best New Comedy Programme" and the "Best Comedy Drama" at the 2014 British Comedy Awards. In the Comedy.co.uk Awards it was voted "Best TV Comedy Drama" in 2014, 2015, 2016, and 2017, and was named "Comedy of the Year" in 2017 and 2018.
Viewing Information:  
For Malaysia  
 Programme
Premieres
Where to watch
Guilt
Friday, 4 September 2020
BBC First:
Us  
Monday, 21 September 2020
BBC First:
Inside No. 9 Series 5  

(BBC Brit exclusive)

Monday, 7 September 2020
BBC Brit: